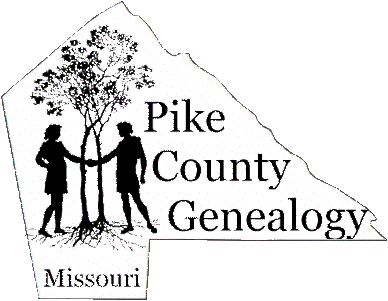 This railroad started in 1870, and on May 23, 1871 a company was formed in Bowling Green, Missouri to build the Pike County sections of the railroad. A.P. Miller was President. In June of 1872 a construction company out of Iowa was hired to complete the Pike County sections. The depression stopped construction until 1875.
The St. Louis, Hannibal and Keokuk railroad was to have 81.75 miles of track from Oakwood to Gilmore Missouri. In December of 1880 new owners came aboard and the railroad was called St. Louis and Hannibal Railroad. It kept this name until it was disbanded forever and tracks removed. By 1882 work was completed and the St. Louis to Hannibal became not only a dream but reality.
This railroad was never a huge moneymaker but by 1890 the company had 4 passenger cars, six locomotives, 2 baggage cars, 2 cabooses and 168 freight cars. The section to Center and Perry was 30 miles long. Stops were Oakwood, Hannibal, Salt River Switch, New London, Ralls County Junction, Owendale, Briggs Station, Center, Orrwood (Noonan) and Perry.
The rural area stops had cattle pens and loading chutes. The trains stopped for all kinds of reasons. Sometimes even picking blackberries while in season was a reason. The engineer was named Lee Jackson (Snow) Stark of Frankford, Missouri. The coalmines in Perry used the railroad to ship out their product.
The short line carried mail, livestock, people, coal, produce, poultry, lumber, grain, limestone, and whatever else was delivered to merchandise stores of its day.
On May 15, 1919, 200 stockholders held a meeting in Bowling Green to discuss the life of the short line. Those who did not want to disband won their argument and the short line took on a new program and a new look. Just 5 months later, on October 3, 1919, John Ringling North, heir of the Ringling Circus family, bought the railroad. It was sometimes called "Ringling's White Elephant". He used the railroad to move his circuses. He owned other short line railroads, which also helped to move his circuses on schedule.
In later years the boxcar helped the railroad make money. There were many of them. The steam trains were not profitable for passengers, so the boxed motor coaches were run on the rails instead. They were sometimes called Toonervilles, Hinkey-Dinks, Leaping Lenas, Hurdy-Gurdies. And whatever other names came along. They were convenient to get here and there and ran at reasonable times of the day.
No more shortline with it's polished brass, whistles and bells, draped skirting on holidays or political events, or its special cars. In 1943 the tracks were removed and all the land reverted to the successors of the original owners. Once again a sad farewell to a piece of our rural history.